The kenjutsu available in-game are as follows:
Information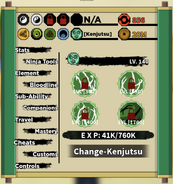 Kenjutsu are special abilities that a player can use, granting them the ability to generate and manipulate the element (Not be to confused with Elements) that their Kenjutsu covers. Having a Weapon Ninja Tool equipped leaves a trail for each respective Kenjutsu.
Obtaining a Kenjutsu
In order to obtain a Kenjutsu, open the menu in-game and click on the tab labelled "Kenjutsu" next to the Bloodline slots.
Once the user is in the Kenjutsu menu, click on the tab labelled "Change-Kenjutsu". Upon clicking this tab, a list of the Kenjutsus available will be displayed on the right. The player can then press "[Randomize] 10 spins" to spin for a Kenjutsu. Spinning for a Kenjutsu for the first time requires no spins, while every spin afterwards requires 10 spins.
In order to roll Kenjutsus, spins are required. Spins are obtained via Twitter/YouTube codes posted on RELLGames' YouTube and Twitter, completing daily missions, playing the Arena gamemode, or from Free Rewards. New codes come out once a Subscriber goal is reached, an update comes out, or whenever the developers feel like it.
Trivia
Kenjutsu is a reference to Breathing Styles from the popular manga Demon Slayer.